Crawling out of bed the morning of Friday, January 13th was a bit different than my usual wake up routine. Instead of moseying around in bed, I quickly ran to the bathroom as there was a substantial gush of liquid all over my PJ's. Had I peed my pants? Nope, that couldn't be it. There was only one other conclusion to draw from this…
My water had broken.
The nurses at the hospital didn't seem alarmed, so Matt and I waited for my 9:30 am NST appointment before going in. As I greeted the attending nurse, I exclaimed with enthusiasm, "I think my water broke!" and proceeded to give her a hug. Matt made fun of me because he said the nurse had reached out to show me the way to the triage room, not for a hug. Whatever. I was about to have my baby in the next 24 hours and I deserved all the hugs in the world!
I changed into a hospital gown and they wired me up to the monitor. Nurse Sharyl watched for about an hour to see if my water had truly broken. She came in 45 minutes later and found no fluid on my seat pad, so we proceeded to an amniotic fluid test. It came back negative, meaning it didn't detect enough fluid to determine that my water had actually broken.
I was confused. I know my body and that fluid definitely was not coming from my bladder. Back to the NST room they sent me to have the fluid levels checked by ultrasound. Sure enough, there was only 5 cm of fluid, meaning my water had broken within the last 48 hours. Turns out the amniotic fluid test could only detect broken water if it was within the last 12 to 18 hours.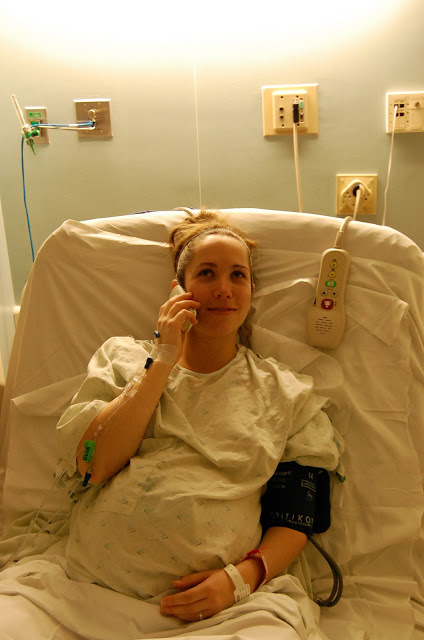 You know what that meant?
Induction!
Now, I had wanted to try to go through labor naturally and unmedicated, but the risk of infection was too high to not be induced. Beside, I had been over the whole pregnancy thing for the past 4 weeks and being induced sounded like a dream.
So I thought…
Nurse Sharyl started the Pitocin drip at 12:30 pm, January 13. I was already dilated at 3 cm and 50% effaced. My suspicions were that Baby Rod would make his debut no later than 12 am that night/morning. At 4 pm, the contractions were becoming fairly intense so I opted for an epidural. They moved me to my birthing room and in waltzed the anesthesiologist. Must be nice having a job where everyone adores you the moment they lay eyes on you. The man seemed like an angel, sent to relieve the ever-growing pain of labor. I'm not going to lie. I was pretty nervous about having a 5 inch needle rammed into my spinal cord. It didn't help that he kept saying how "tight" my dura mater space was as he was jamming it in. I should have known then that something could very well go wrong.
Within 10 minutes, I felt on top of the world! All pain vanished and my painful grimace was replaced with a big smile. Nurse Sharyl checked to see my progression. Four hours had passed since the Pitocin was started and I was only dilated to 4 cm and about 75% effaced. Since the epidural had kicked in, she maxed out the Pitocin to its highest amount to get the process moving along faster.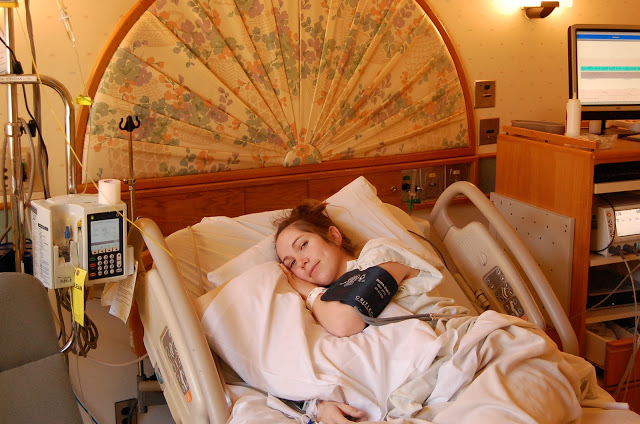 Suddenly the monitor started flashing purple and baby's heart rate completely dropped off the screen. I felt in my gut something wasn't right, and Nurse Sharyl was scrambling in the room not 10 seconds later. She rearranged the heart monitor and was able to find his heart beat again, but I was pretty shaken at this point. Tears filled my eyes and I couldn't help but start bawling. The Pitocin level was decreased to ensure a healthy heart rate.
Fear had consumed me and anxiety was beginning to take over my consciousness. My own heart rate was now at an alarming 150 and the constant awareness of it made it worse. At this point it was 7 pm. Nurse Natasha replaced Nurse Sharyl. She took one look at me and gave me the best pep talk in the world. Her reassuring words and amazing care are what got me through the night.
At 7 pm, I was about 5 cm dilated, and 80% effaced. Slow progression, but we were getting somewhere. Matt stayed right by my side and held my hand as we watched a movie to get my mind off my anxiety.
A few more hours passed, and I was finally at 7 cm and almost 100% effaced around 10 pm. Baby Rod was coming soon!
Matt and I sat there together, reveling in the thought that we would meet our beautiful son soon. Moments later, I felt a horrifically intense pain on the left side of my abdomen that shot all the way through my back. It literally felt as if someone had punched me in the stomach. Not 4 minutes later, the terrifying pain returned.
My epidural has stopped working. Let me repeat that. MY EPIDURAL HAD STOPPED WORKING. At the height of my active labor! Where the contractions were the most unbearable, especially since the Pitocin augmented them to 10 times the intensity!
Was this really happening to me? The anesthesiolgists's complaints of my insertion area being "really tight" rang in my ears. I wanted to slap the guy at this point, not hug him. Nurse Natasha helped as much as she could and requested what they call a bullet of pain medicine into the epidural line. Guess what? It didn't work. The pain was increasing at an alarming rate. It felt like a UFC fighter was grabbing my insides and wrenching them as hard as possible, while kicking me in the back. This was not how I had imagined labor.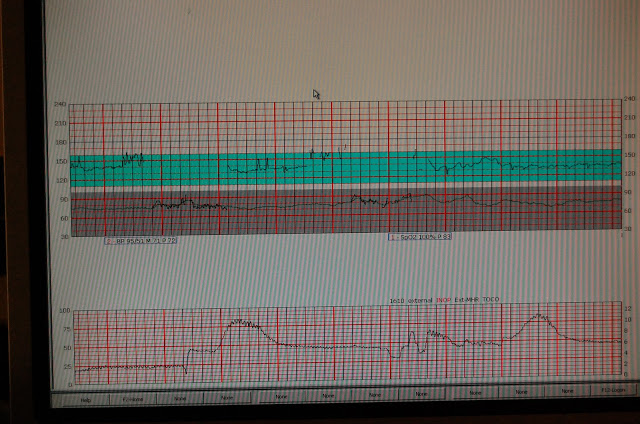 I consider myself to have a fairly high pain tolerance. I felt like the biggest wussy in the world. I hurt and ached and just wanted it to be removed from me. I began to throw up.
The anesthesiologist gave me a second round of the bullet shot, but to no avail. It was about 12:30 am and I threw up a second time. The good news was I had finally dilated to 9, almost 10 cm and pushing was imminent.
I had been in labor for 12 grueling hours and felt hopeless. The life was slowly being sucked out of me, and all I could manage to do was whimper in pain to Matt. Bless his dear heart. Matt was amazing. He stroked my hair, cooled me off with a wet washcloth, and whispered sweet words of encouragement as tears welled up in his eyes from witnessing the suffering I was enduring.
At 2 am, the pushing began. As much as I thought it would hurt, pushing with the contractions felt liberating. It was a time for me to push out the agony and visualize the moment when I got to meet my stubborn boy that didn't want to come out. An hour later, I was still pushing. Nurse Natasha coached me through each and every push, and assured me I was going to get our little guy around that corner. She called my doctor and asked what she wanted to do at around the hour mark. Keep pushing, she told Natasha. How could I go on? I had zero strength left and wanted them to cut him out of me. It's funny how your perspective on things tends to change when you are faced with extreme difficulty. I was ardently opposed to a cesarean section the entire pregnancy, but at this point I no longer cared and wanted him out of me as I laid there helpless and weak.
Around 3:25 am, January 14, I pushed the hardest I ever have in my life. Baby Rod had finally crowned. Waiting for Dr. Vu to rush to the hospital was a challenge. Fighting the urge to push with each contraction seemed almost impossible. Finally, the doctor arrived and I pushed with all the might and strength I could find within myself. At 3:55 am and five solid pushes later, I was met with the most glorious feeling of lightening imaginable. The pain immediately melted away and all I could hear was the cry of a helpless little baby.
I did it.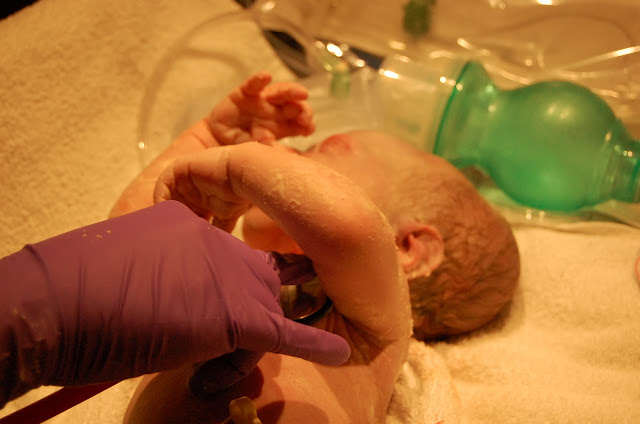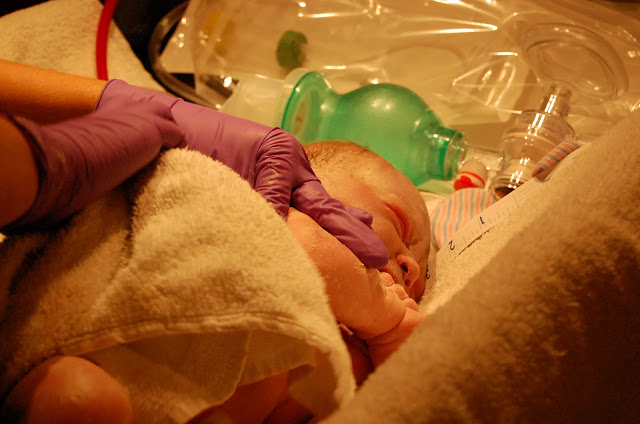 The doctor laid my sweet, precious baby on my chest. I was overcome with fear, exhaustion, and excitement all at once. He was covered in a waxy coat of vernix with a very cone-shaped head. He looked more like an alien than a baby, but he was still amazing.
Matt cut the cord, to both our surprise, and they whisked him off to be cleaned, measured, and weighed.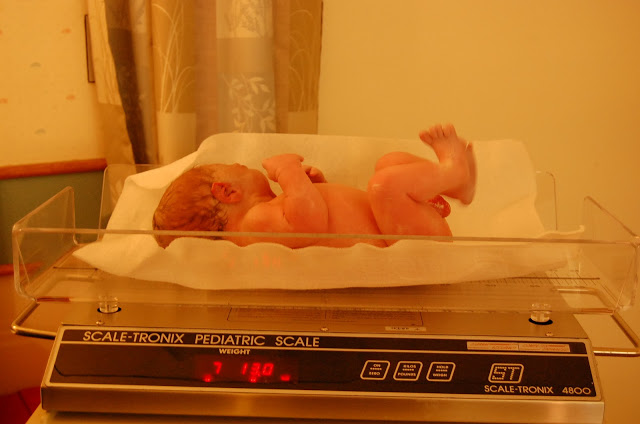 Being placed in my arms once again, Matt and I both stared at the true miracle of life we had created.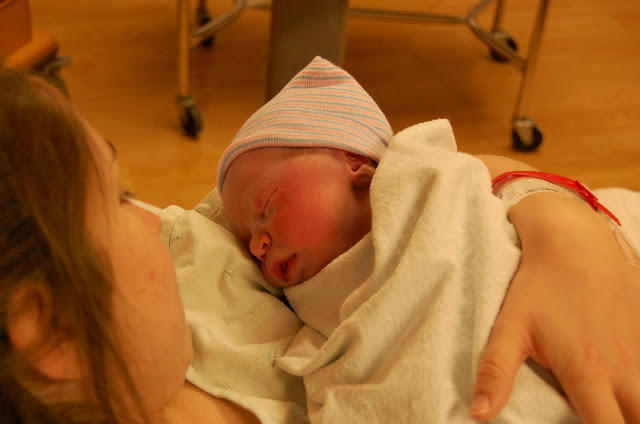 Childbirth is the hardest thing I have ever gone through, but by far the best.
Lucas Timothy Rodriguez is ours forever, and we've been falling more madly in love with him with each passing day.