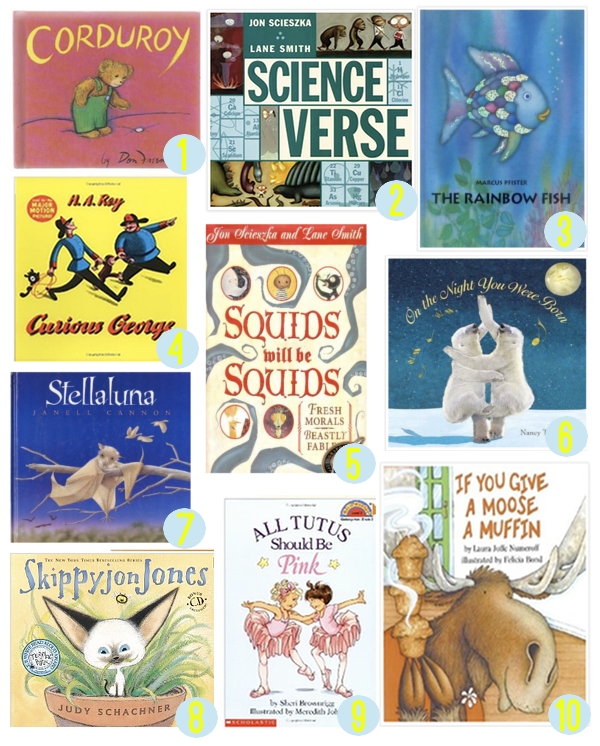 1. Corduroy by Dan Freeman.
2. Science Verse by Jon Scieszka
3. The Rainbow Fish by Marcus Pfister
4. Curious George by H.A. Rey
5. Squids Will Be Squids by Jon Scieszka
6. On The Night You Were Born by Nancy Tillman
7. Stellaluna by Janell Cannon
8. Skippyjon Jones by Judy Schachner
9. All Tutus Should Be Pink by Sherri Brownrigg
10. If You Give a Moose a Muffin by Laura Numeroff
Around these parts, we like to bury our nose in a book or two. These are our top 10 picture book picks. They are not ranked in any particular order, and I have to admit that many come from my childhood days of reigning best picture books. Half of them are pure wit and humor, but they teach fundamental life lessons too. My personal favorite? Science Verse. We all know Jon Scieszka from his best-seller, The Stink Cheese Man, but his genius definitely didn't stop there! Here is a poem from Science Verse to start out your day, titled "Amoeba":
Don't ever tease a wee amoeba

By calling him a her amoeba.

And don't call her a him amoeba.

Or never he a she amoeba.

'Cause whether his or hers amoeba,

They too feel like you and meba.
Off to the library we go!