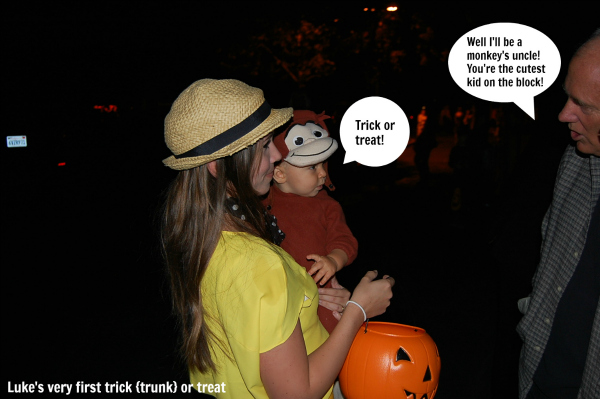 The moment I clicked the 'place order' button for Luke's costume back in September, my giddy, childish excitement almost burst at the seams waiting for this moment.
We're pretty big Curious George fans over here, so what would be more appropriate than being Curious George and the (Wo)man in the Yellow Hat? You're right. Nothing.
Friday night was the annual Trunk or Treat at our church (where you trick or treat in the parking lot at the makeshift scary doorsteps otherwise known as the trunk). As the sun started to set, our signal to put on our Halloween best approached. We garbed up, grabbed our trusty pumpkin bucket, and off we went to gather our 2 pieces of candy for pictures sake.
You see, I'd been waiting for this moment my whole life in a way. Ever since my own wee days of trick or treating, I used to visualize my future days of dressing up for Halloween with my babies (gosh, I'm so maternal). And this wasn't a thing I did for every holiday. It was just Halloween in particular. I guess there is just something about a baby in costume that tugs at my heart strings.
So there we were, creating the memories that had previously only lived in my overactive imagination. Luke's head whipped in every direction trying to process all the crazy and ghoulish costumes at every turn, his tiny hand half half clenched to his pumpkin pail. His very first ever "trick or treat" was greeted by a smiling grandpa and a handful of candy that Matt and I would later enjoy. Truly a trick for Luke and a treat for us. We boogied and twirled in the fake smoke that is exclusive to an iconic Halloween party, and by the end of it we had a sleeping monkey in our arms.
Lucky for us, Halloween still hasn't officially graced us with its presence, so there is a good chance we'll be back with more pictures (and I really mean better) from trick or treating with cousins. After all, what type of mommy blogger would I be if I didn't get a non-flash/non-grainy/non-blurry picture of our Halloween costumes?
Until then!(For more high-quality photos of our costume, click over to
this post
!)