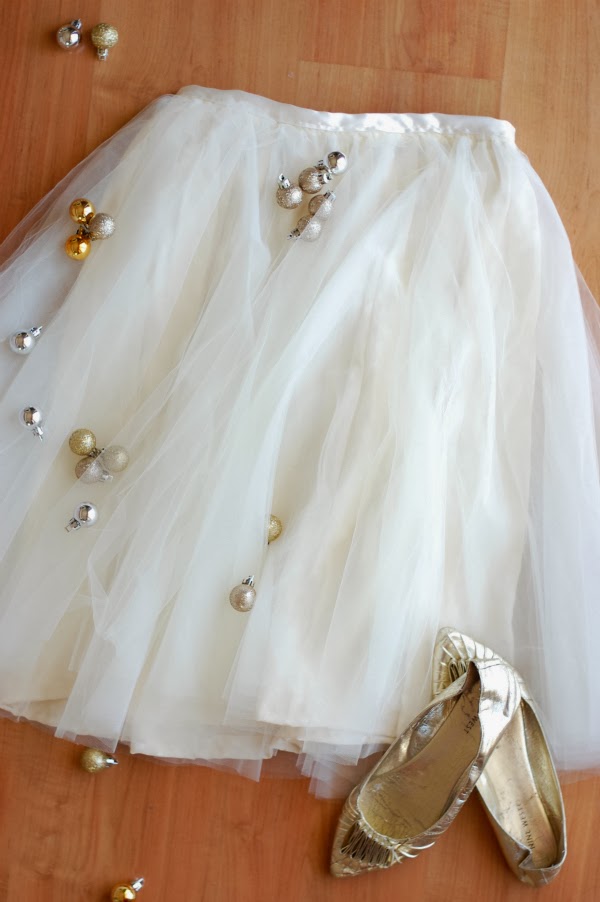 The ivory tulle skirt: the whimsical holiday skirt every girl dreams of adding to her wardrobe.
This DIY is the easy version for the sewing novice, because hey, zippers are scary and I really can only sew in a straight line.
Materials:
10 yards of tulle in the color of your choice (I made mine with 5 layers)
Matching thread
Matching ribbon for the waistband (I used a 1 inch satin ribbon. Make sure yours doesn't have wire!)
Old or thrifted skirt that matches the color of your tulle for the lining
Sewing machine
Fabric scissors
Pins
Needle
Directions:
3) Pin your tulle skirt on top your thrifted skirt, making sure the waists of both are matching up. Cut a slit in your tulle skirt in the back where the zipper is on the thrifted skirt, making sure you only cut it to match the length of the zipper. Stitch your tulle skirt to your thrifted skirt, making sure your stitch is no more than a 1/2 inch from the top hem so your ribbon can fold over and cover all the raw edges and stitches.
4) Fold under the tulle along both sides of the zipper about a 1/4 inch so it looks neat, pin down, and hand stitch it to the thrifted skirt (make sure your zipper is open when you do this).
5) Taking your ribbon, fold it over the raw hem on top, pin down, and then stitch it all the way around.
6) Cut and hem your thrifted skirt to the length of your tulle.
Boom, you're done. Now you have a tulle skirt that cost you all of $15. It's a Merry Christmas, indeed.
I will be sure to wear mine in an outfit post soon, when I escape the grips of a toddler covered in dirt and the projectile aim of a spitty newborn. It will happen (or so I've promised myself), but until then it's leggings and tunics for this mama!