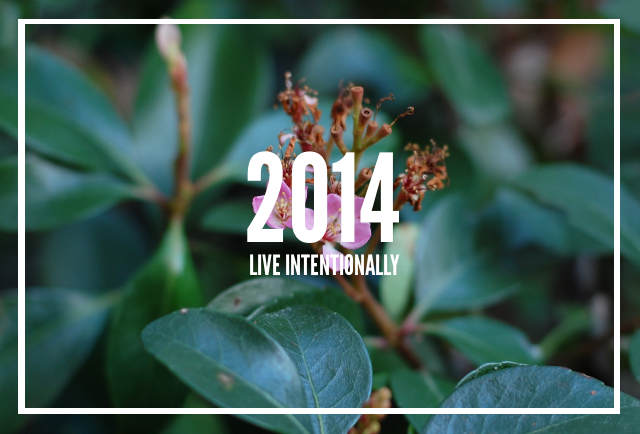 So, New Year's resolutions. We kind of have what many would call a love/hate relationship. I love the idea of being inspired and getting a fresh start to recharge your life for the coming year, and I hate it because I only keep up to snuff on my resolutions for approximately 2 weeks. If that. Really, my resolution this year needs to be to keep my resolutions!
Einstein is attributed to have once said, "The definition of insanity is continuing to do the same thing over and over, and then expecting different results." Since I am lousy at keeping commitments with myself and have spent the last 20-something years driving myself bonkers with failed resolutions, I am going to give myself a word to live by for 2014 instead. My word is…
Intention.
At first glance, this word feels broad and maybe not specific enough, but that's what I need. I want to live intentionally in 2014, no matter what it is I am doing. I want to have exact purpose and aim in each thing I do in my life — as a mother, wife, sister, daughter, friend and any other title I hold. I've found myself flying under the radar of the "motherhood" shadow all too often, using it as an excuse to hide in my insecurities and be, well, lazy, for lack of a better word. Too many days I sit Luke in front of the iPad to keep him entertained because I don't want to exert the energy to get everyone ready and out for the day. I waste waaaay too many hours sitting in front of the TV, whether it is spent filling my brain with rubbish like reality TV or going on unhealthy Netflix binges. We eat majority of our meals from pre-made, frozen foods or from a drive-thru window. I screen phone calls like a recluse, and opt for text messaging far too frequently. I say "no" and turn away opportunities more than I should. These few examples stem from a place of selfishness. A place that could possibly bring me some small discomfort, but is absolutely guaranteed to bring me immense joy and a rich life. And my reason for it is always, "I'm tired… because I'm a mom. I don't have time… because I'm a mom." Guess what? That's a load of malarkey. As much as I wear my mom badge proudly, I don't want it to rob me of my identity, or rob the experience of an abundant life from my children and family.
So, intention, let's do this. I want to explore new places with Luke and Wes, educate them, and let them fall in love with the endless possibilities the world presents. I want to immerse myself in literature, art and philosophy. I want to eat and taste real food, not processed, freezer burnt crap. I want to start a relationship with my kitchen and get buried head deep in cook books, in hopes of creating dishes that leave us mildly delirious from the explosion of taste and aroma. I need to enhance my relationships with my friends and family and make more of an effort to be involved and act like I care. I've developed the skill to spout off empty words of flattery and affection, which really mean nothing unless I show that I care. I want to say yes and push myself out of these silly boundaries I've trapped myself in. No more skimming by and watching wasted days turn into lost weeks and months. I am going to LIVE on purpose.
What will you accomplish this year?