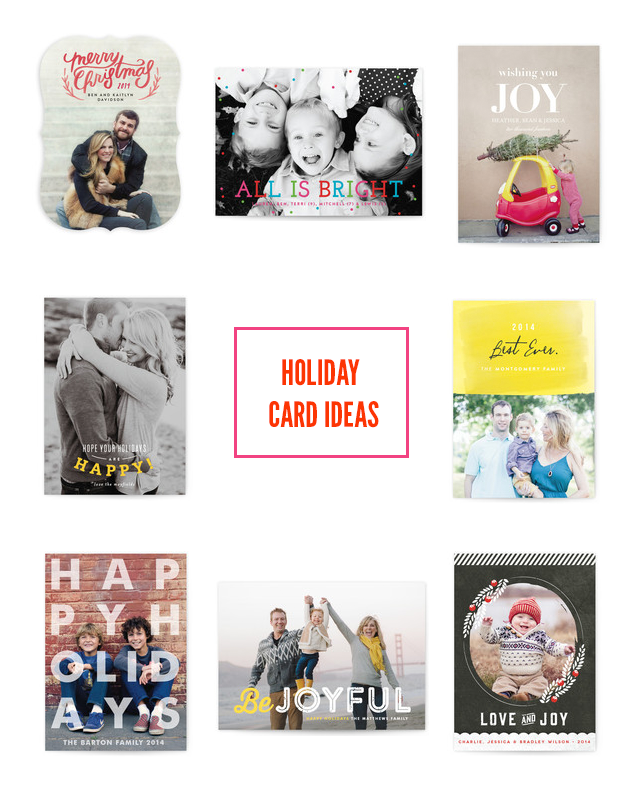 Have you ordered your Christmas cards yet? I always feel like I am pushing the envelope (ha!) on getting our cards out by an acceptable time. (Which means at least by Christmas Day.) In fact, this last year we didn't even get a real one out! It was an e-card, but it's the thought that counts right? I blamed it on having a newborn. (Always an excellent excuse for pretty much anything, so if you have a newborn, you better take advantage before your time runs out! I suggest adding nightly foot massages to your list.)
Well, this year I am acting like a bonafide adult and getting our cards done professionally AND out on time! I have always loved the designs from Minted, and I am absolutely thrilled we get to team up with them to order our cards this year. Their charm and colors are right up my alley and I love all of the hand lettered details and illustrations. They don't miss out on the details — even the envelopes are cute!
Above I've selected my favorites. Now the problem is choosing one! What is your vote? I think I have it narrowed down to middle left, bottom left, and bottom right. But I can't be too sure. I really like bottom middle, top right, and top middle as well… so, basically all of them 😉 Help!
Be sure to check out Minted if you are looking to order cute holiday cards this year, too! They have some great Cyber Monday sales coming up. Also, I'll be back in a couple weeks to reveal the Christmas card we selected. Happy holiday card shopping!