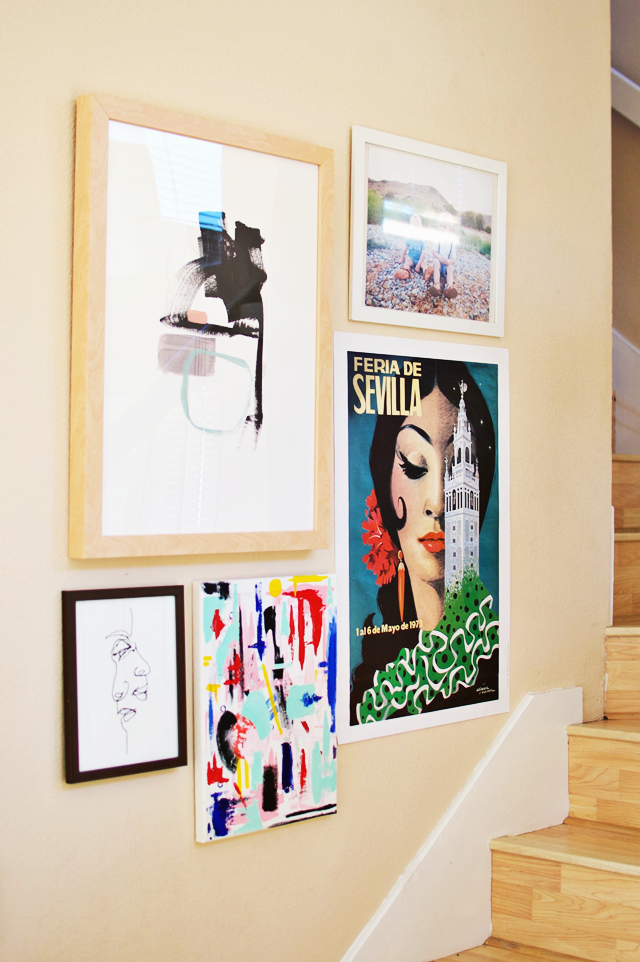 The new year urges me to refresh our home and only bring in items I really love. My top priority these last few months has been starting a legit art collection that is conscious and personal, along with giving our walls some color. We rent our house, so there is not much I can do in the way of making it feel like my style. Those orangey-beige walls are tricky to work against, but this gallery wall on our staircase turned out beautifully (and someday it will look even better against a bright white or drastic dark grey wall).
I received a few art prints from Minted, which connects independent artists from all over the world, to get my collection started and I am thrilled with how stunning and high quality they are. The large focal one is called Untitled 4 by Jaime Derringer. I choose this piece because I was drawn to her intense brushstrokes, which are inspired by Japanese art, and her choice of bold, yet calming color. Her approach to art is one I identify with as well. "Everything is unplanned and completely intuitive—each mark is a response to its predecessor. The repetition of shapes and lines is an exercise used to escape from everything else around me. I'm a believer in embracing happy accidents and approaching each piece as an experiment." Even her explanation of her method is artistic! I love it!
The dark framed piece is titled Point of View by Renee Stevens. The simplicity and contrast of black and white pulled me in, but the message behind the work was the sinker. "Inspired by the contrasting views of two different people. You can see one face at a time or the opposing faces looking away from one another, yet still together. Inspired by the metaphor of a relationship and how working together and offering separate view points make it all work." This description and art print held me in silent contemplation. I strongly believe in the importance of different view points and respecting and honoring them, even if I don't agree. That's what makes us human.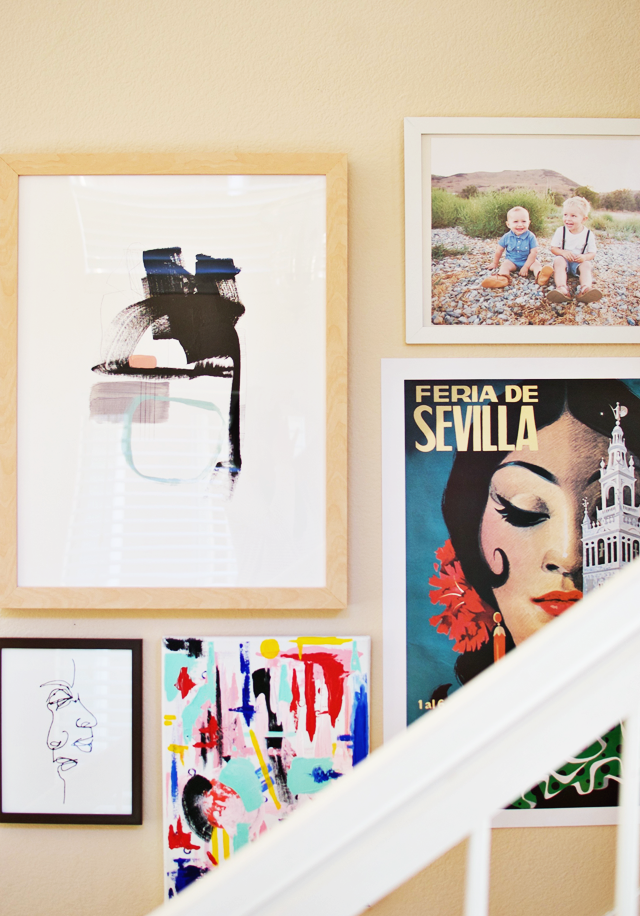 Now, after multiple holes in the wrong place and hours agonizing over frame placement, I give you my tips for creating a gallery wall!
1. Choose an odd number of frames and art pieces. In my case, I went with five. Initially I had seven, and it looked chaotic for the wall on our staircase. Sometimes less is more, and since I have two large focal pieces, it just made sense to go with fewer frames.
2. Color scheme is everything. This is the hardest part for me when buying art. I want it to hold meaning, but I also want to make sure the colors aren't overwhelming and can incorporate nicely with the other pieces. It's important to select three main colors, plus a shade. In this instance, it is blue, red, yellow and black. Typical. I can't get away from the primary colors! I also tried to give it some variety by pulling in a mint and pink color as well. They don't veer too far from the main reds and blues, and you can see them in Untitled 4 and my abstract canvas. The combination of the two brings it together along with black. Black is classic. Black is chic. When in doubt, go with black to make everything cohesive. Also, do not go with more than three colors for the frames. This also gives it a connected look.
3. Make it personal. Add in photographs of family. Create your own artwork. Put up posters of places you've traveled. Choose art that has a deeper meaning to you. This is what our wall is made of and I couldn't love it more if I tried. Luke and Wes are the heartbeat of our family, so it was essential to include them in the gallery. You can also make engineer print portraits for your wall, which are AMAZING. We have them on the opposing wall by the couch, and you can get my tutorial here. The poster is from our trip to Spain for our first anniversary. Matt lived there for two years serving a church mission, so it is a beloved place for him, and now me. The abstract art is catharsis on canvas, where I unleashed my feelings about life. It's like I took all of my feelings and transferred them to the canvas, freeing myself from their weight. Now I can look at them from a third-person perspective and receive closure. It reminds me of a quote I saw which says, "When it comes to art, it's important not to hide the madness." There you have it.
4. Use parchment paper to arrange and hang the frames. Before taking the old nail and hammer to your precious drywall, make the arrangement on the ground! I prefer to space mine no more than two inches apart, and like to stagger them. Tinker with it until you find the right arrangement and the colors flow nicely. Next, trace the size of your frames onto parchment paper and make a mark where the hanging hook sits. Tape the parchment paper onto the wall in the exact arrangement on the floor and adjust until everything is even and centered. Hammer in the nail on the marked spot on the parchment paper, then hang! It's like handy magic.